Our mission
Our mission is to help you with a safe and pleasant transport to a perfect start of your holiday!
Our vision
With a heart for you as a passenger, we continue to innovate and invest in our team of passionate and trained colleagues to provide you with the most enjoyable travel experience possible.
That way we want to become an indispensable partner in the field of airport transport!
Our values
Punctuality & flexibility
Passion & dedication
Safety & responsibility
Reliability & transparency
Customer focus & respect
---
About us
We are pleased to see your interest in our services as well as the fact that you take the time to find out more about our company.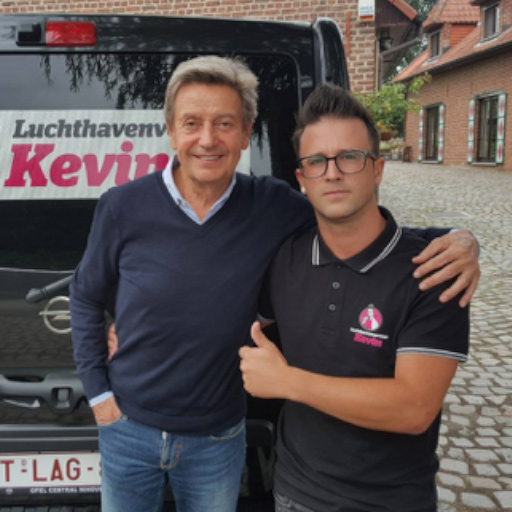 Willy Sommers & CEO Kevin Van Lierde
The guy behind Luchthavenvervoer Kevin
Luchthavenvervoer Kevin was founded in 2012 by Kevin Van Lierde, he was 27 at that time. Today he is still the CEO of the company.
Cycling
Kevin has for many years had a career in bicycling, his dream was to become a pro. A heavy fall caused back problems, this meant an early stop for his career. Nevertheless cycling will always have a special place in his heart.
Career Switch
Door de onverwachte gebeurtenissen moest hij het over een andere boeg gooien en koos hij voor een carrière als zelfstandig ondernemer. Een nieuwe passie en droom was geboren.
The start-up
In the start-up phase of this new adventure, Kevin was a driver, planner, dispatcher as well as cleaner.
Family business
Kevin could always count on his parents. Our company has made a beautiful grow throughout the years, we were able to expand our fleet to 9 vehicles. Only thanks to the support of his parents this story became a success.
New logo
Since 2018 we chose a new logo and new corporate identity. Which represents the enthusiasm of Kevin and his team.
Social Media
Check out our Facebook page and other media for additional information and reactions from our clients. Like our page and stay tuned!